Chalet "Les Aiguilles"
Description
En voiture en toute saison (Ă  l'Ă©cart de la grande circulation).

par le train de montagne en gare de Montroc située à 200m et offrant des liaisons de jour vers St Gervais le Fayet et Martigny en Suisse.

par l'avion - aéroport de Genève.

Commerces à ARGENTIERE situé à 1,5km: boulangerie, supermarché, journaux, médecin, pharmacie etc...
by car (see map below).

by train via Montroc Le Planet station (mountain train station at 200 m from the chalet) . Connection at St Gervais le Fayet or Martigny (Switzerland) to the main railway companies.

by plane via Geneva (Switzerland) airport.

Shopping area in ARGENTIERE at 1.5 km from the chalet.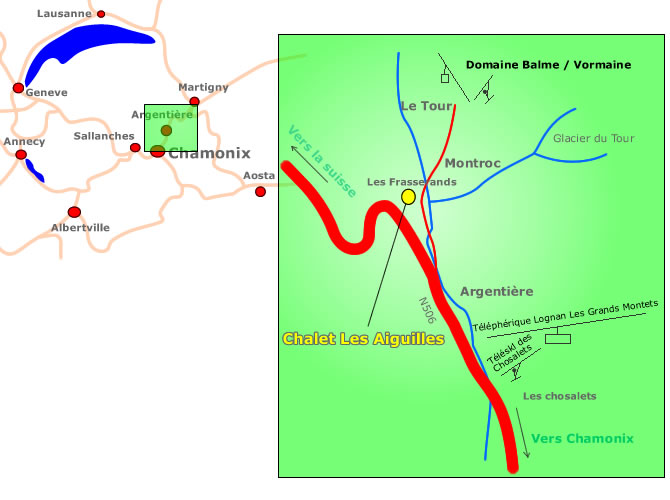 Météo
2019-01-19 02:09:51
Température:
-6.6°
Pression
(sol):

↓ 857mb

Pression
(mer):
1007mb
Humidité
40.9%
RĂ©servations / Booking Calendar

.........
Janvier 2019
FĂ©vrier 2019
Mars 2019
Avril 2019
Mai 2019
Juin 2019
Juillet 2019
Août 2019
Septembre 2019
Octobre 2019
Novembre 2019
DĂ©cembre 2019
Janvier 2020
FĂ©vrier 2020
29-05
05-12
12-19
19-26
26-02
02-09
09-16
16-23
23-02
02-09
09-16
16-23
23-30
30-06
06-13
13-20
20-27
27-04
04-11
11-18
18-25
25-01
01-08
08-15
15-22
22-29
29-06
06-13
13-20
20-27
27-03
03-10
10-17
17-24
24-31
31-07
07-14
14-21
21-28
28-05
05-12
12-19
19-26
26-02
02-09
09-16
16-23
23-30
30-07
07-14
14-21
21-28
28-04
04-11
11-18
18-25
25-01
01-08
08-15

semaine ouverte Ă  la location / week free for rent
occupé; / booked
Chalet "Les Aiguilles"
125 Chemin des Frasserands
74400 Chamonix
France
Température extérieure:
-6.6 °C
2019-01-19 02:09:51

Vue du chalet / View from the chalet